Welcome to the Chocolatey Community Package Repository! The packages found in this section of the site are provided, maintained, and moderated by the community.
Moderation
Every version of each package undergoes a rigorous moderation process before it goes live that typically includes:
More detail at Security and Moderation.
Organizational Use
If you are an organization using Chocolatey, we want your experience to be fully reliable. Due to the nature of this publicly offered repository, reliability cannot be guaranteed. Packages offered here are subject to distribution rights, which means they may need to reach out further to the internet to the official locations to download files at runtime.
Fortunately, distribution rights do not apply for internal use. With any edition of Chocolatey (including the free open source edition), you can host your own packages and cache or internalize existing community packages.
Disclaimer
Your use of the packages on this site means you understand they are not supported or guaranteed in any way. Learn more...
Passing
Failing
Pending
Unknown / Exempted
Downloads:
325
Downloads of v 0.6.0:
234
Last Update:
07 Nov 2020
Package Maintainer(s):
Software Author(s):
Tags:
neovim
vim
rust
vulkan
skia
Software Specific:
Package Specific:
Neovide
Software Specific:
Package Specific:
Downloads of v 0.6.0:
234
Software Author(s):
Edit Package
To edit the metadata for a package, please upload an updated version of the package.
Chocolatey's Community Package Repository currently does not allow updating package metadata on the website. This helps ensure that the package itself (and the source used to build the package) remains the one true source of package metadata.
This does require that you increment the package version.
This Package Contains an Exempted Check
1 Test Passing and 1 Exempted Test
---
Validation Testing Passed
---
Verification Testing Exempt:
Dependency requires reboot
To install Neovide, run the following command from the command line or from PowerShell:
To upgrade Neovide, run the following command from the command line or from PowerShell:
To uninstall Neovide, run the following command from the command line or from PowerShell:
Description
---
This is a simple graphical user interface for Neovim. Where possible there are some graphical improvements, but it should act functionally like the terminal UI.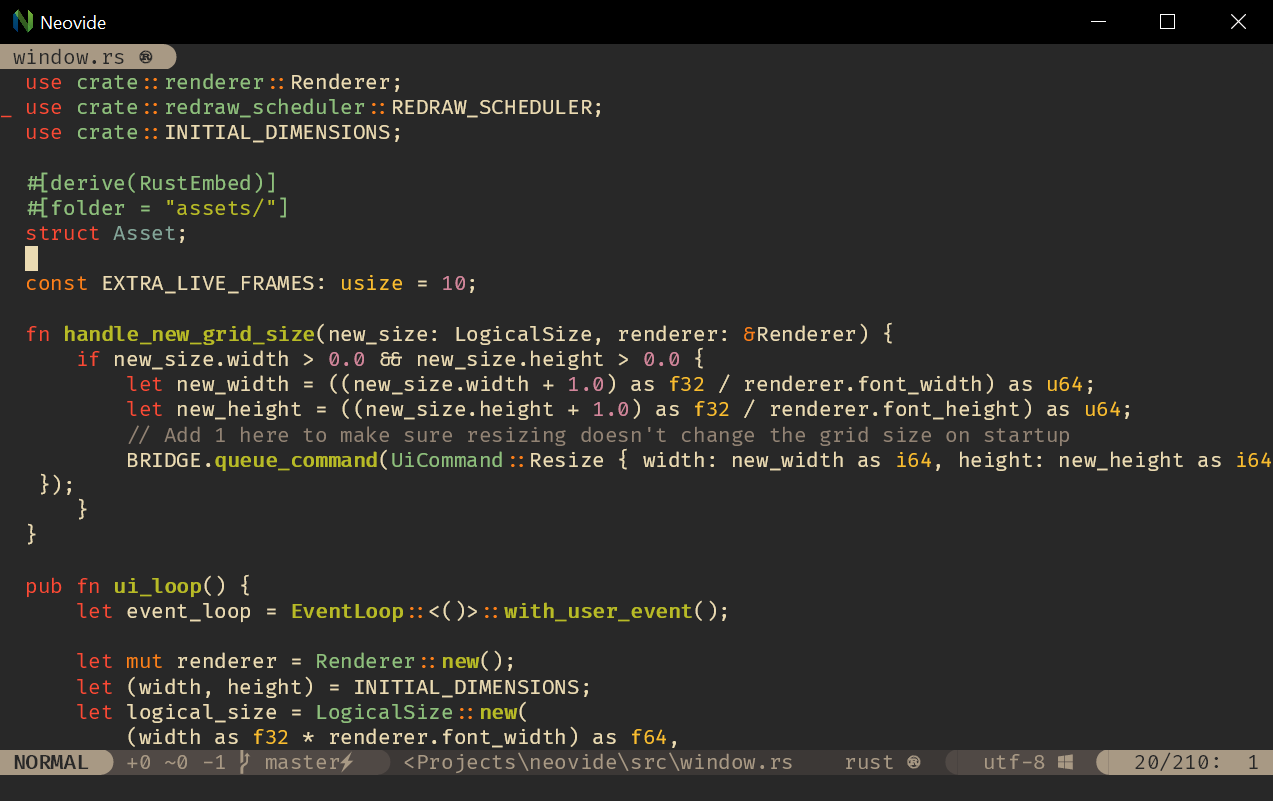 Features
Should be a standard full features Neovim GUI. Beyond that there are some visual niceties:
Ligatures
Supports ligatures and full HarfBuzz backed font shaping.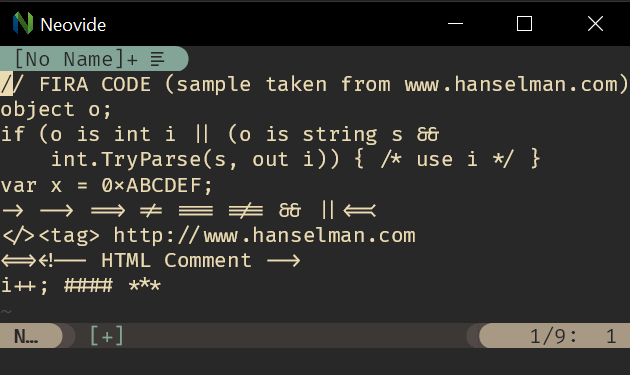 Animated Cursor
Cursor animates into position with a smear effect to improve tracking of cursor position.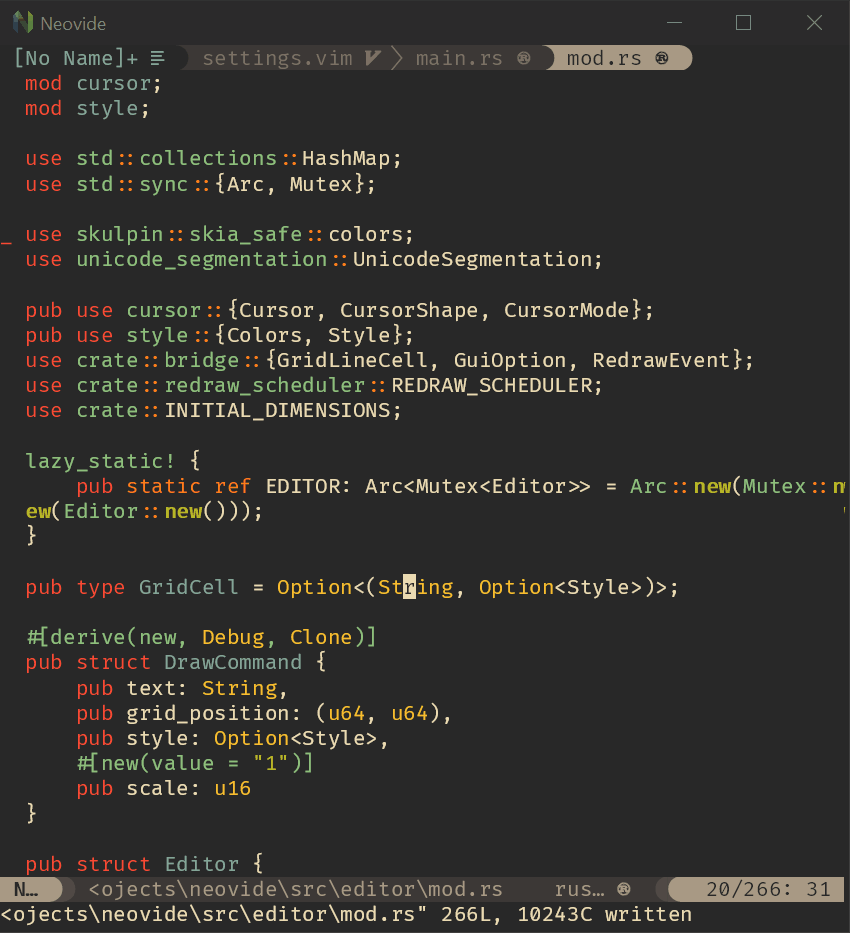 Emoji Support
Font fallback supports rendering of emoji not contained in the configured font.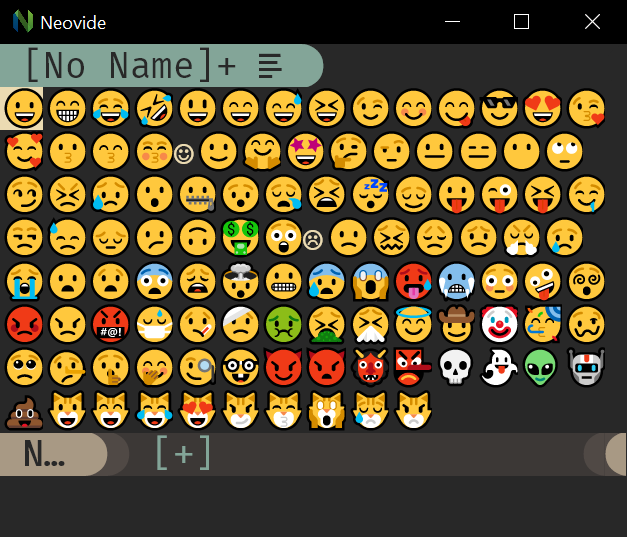 Some Nonsense ;)
let g:neovide_cursor_vfx_mode = "railgun"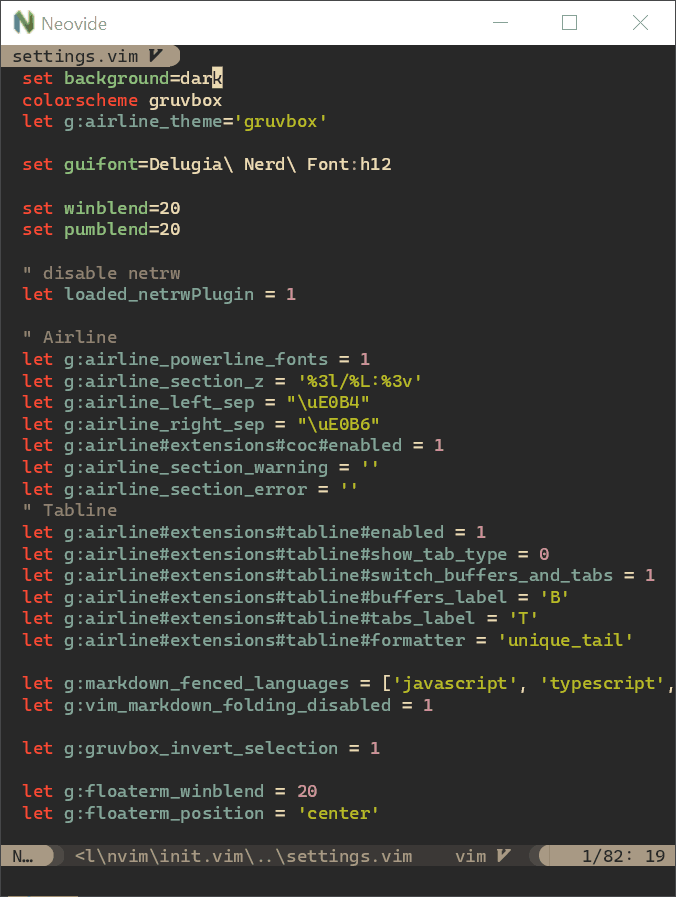 Configuration
Configuration is done almost completely via global neovide variables in your vim config and can be manipulated live at runtime. Details can be found here.
Building
Building instructions are somewhat limited at the moment. All the libraries I use are cross platform and should have
support for Windows, Mac, and Linux. The rendering however is Vulkan-based, so driver support for Vulkan will be
necessary. On Windows this should be enabled by default if you have a relatively recent system.
Note: Neovide requires neovim version 0.4 or greater.
Install the latest version of Rust. I recommend <https://rustup.rs/>
Install CMake. I use chocolatey: choco install cmake --installargs '"ADD_CMAKE_TO_PATH=System"' -y
Install LLVM. I use chocolatey: choco install llvm -y
Ensure graphics libraries are up to date.
git clone https://github.com/Kethku/neovide
cd neovide
cargo build --release
Copy ./target/release/neovide.exe to a known location and enjoy.
If you see an error complaining about DRI3 settings, links in this issue may help:
<https://github.com/Kethku/neovide/issues/44#issuecomment-578618052>.
Note: If you run into libsndio errors, try building without default features which will disable static linking of the SDL
library.
Files
---
legal\LICENSE.txt
MIT License

Copyright (c) 2020 Keith Simmons

Permission is hereby granted, free of charge, to any person obtaining a copy
of this software and associated documentation files (the "Software"), to deal
in the Software without restriction, including without limitation the rights
to use, copy, modify, merge, publish, distribute, sublicense, and/or sell
copies of the Software, and to permit persons to whom the Software is
furnished to do so, subject to the following conditions:

The above copyright notice and this permission notice shall be included in all
copies or substantial portions of the Software.

THE SOFTWARE IS PROVIDED "AS IS", WITHOUT WARRANTY OF ANY KIND, EXPRESS OR
IMPLIED, INCLUDING BUT NOT LIMITED TO THE WARRANTIES OF MERCHANTABILITY,
FITNESS FOR A PARTICULAR PURPOSE AND NONINFRINGEMENT. IN NO EVENT SHALL THE
AUTHORS OR COPYRIGHT HOLDERS BE LIABLE FOR ANY CLAIM, DAMAGES OR OTHER
LIABILITY, WHETHER IN AN ACTION OF CONTRACT, TORT OR OTHERWISE, ARISING FROM,
OUT OF OR IN CONNECTION WITH THE SOFTWARE OR THE USE OR OTHER DEALINGS IN THE
SOFTWARE.
legal\VERIFICATION.txt
VERIFICATION
Verification is intended to assist the Chocolatey moderators and community
in verifying that this package's contents are trustworthy.

Package can be verified like this:

1. Go to https://github.com/Kethku/neovide, enter to releases and download from there.

   x86_64: https://github.com/Kethku/neovide/releases/download/0.6.0/neovide.exe

   to download the zip files. You may wish to rename one of the files.

2. You can use one of the following methods to obtain the SHA512 checksum:
   - Use powershell function 'Get-FileHash'
   - Use Chocolatey utility 'checksum.exe'

   checksum64: 8362a2149d6117ff03f51bbdcac1f3eaa3f4b4d9e49529808faf415b27d90d8c5f803b87ce84ba04a5d346c79e204da9a5984ed42a1af01f451ebccd3cea7542

File 'LICENSE.txt' obtained from:
   https://github.com/Kethku/neovide/blob/0.6.0/LICENSE
tools\neovide.exe
md5: 99C7B80598A1D08B1CBDF81510946580 | sha1: FD392912F219896A010F9CEC450FBD2200CE0CAE | sha256: 381E1669204606CFE447857B968BFDDBACB6C8ED8A8E97DA51347693AC34099A | sha512: 8362A2149D6117FF03F51BBDCAC1F3EAA3F4B4D9E49529808FAF415B27D90D8C5F803B87CE84BA04A5D346C79E204DA9A5984ED42A1AF01F451EBCCD3CEA7542
Virus Scan Results
---
Log in or click on link to see number of positives.
In cases where actual malware is found, the packages are subject to removal. Software sometimes has false positives. Moderators do not necessarily validate the safety of the underlying software, only that a package retrieves software from the official distribution point and/or validate embedded software against official distribution point (where distribution rights allow redistribution).
Chocolatey Pro provides runtime protection from possible malware.
Version History
| Version | Downloads | Last Updated | Status |
| --- | --- | --- | --- |
| Neovide 0.6.0 | 234 | Saturday, November 7, 2020 | Approved |
| Neovide 0.5.0 | 11 | Saturday, November 7, 2020 | Approved |
| Neovide 0.4.0 | 16 | Friday, November 6, 2020 | Approved |
| Neovide 0.3.0 | 12 | Friday, November 6, 2020 | Approved |
| Neovide 0.2.0 | 8 | Friday, November 6, 2020 | Approved |
| Neovide 0.1.0 | 44 | Thursday, October 1, 2020 | Approved |
Copyright
---
Copyright © 2019 - 2020 Keith Simmons
Release Notes
---
Swapped back to upstream skulpin

Some mixed results keyboard handling fixes (still not perfect)

Bunch of unit testing (thanks @j4qfrost)

Significant startup speed improvements and font loading improvements (thanks @exoticus)

Better fullscreen on windows (thanks @R-Michelsen)

Manual font fallback listing in guifont

Other misc bug fixes
Discussion for the Neovide Package
---
Ground Rules:
This discussion is only about Neovide and the Neovide package. If you have feedback for Chocolatey, please contact the Google Group.
This discussion will carry over multiple versions. If you have a comment about a particular version, please note that in your comments.
The maintainers of this Chocolatey Package will be notified about new comments that are posted to this Disqus thread, however, it is NOT a guarantee that you will get a response. If you do not hear back from the maintainers after posting a message below, please follow up by using the link on the left side of this page or follow this link to contact maintainers. If you still hear nothing back, please follow the package triage process.
Tell us what you love about the package or Neovide, or tell us what needs improvement.
Share your experiences with the package, or extra configuration or gotchas that you've found.
If you use a url, the comment will be flagged for moderation until you've been whitelisted. Disqus moderated comments are approved on a weekly schedule if not sooner. It could take between 1-5 days for your comment to show up.
comments powered by

Disqus